The library deeply appreciates all donations that help us continue providing resources and services to the university's students and faculty. Looking forward into the future, we hope to expand and improve our offerings, but this enrichment of the campus can be done only with your help.

If you would like to support the library with a financial donation, contact University Advancement or by calling 1-800-392-4112.
Opportunities to Give
Donor Spotlights
Contact Us
Opportunities to Give
Fund the library
Endowments and cash donations help the library to fulfill the needs of the Missouri S&T community.
Shape our collections
Through making a monetary donation to the library's collections you provide long-term access to materials for our students, staff, and faculty.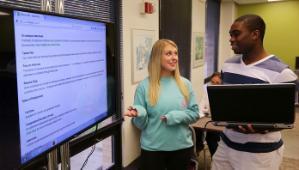 Shape our spaces and services
The library is constantly looking for ways to improve and revitalize the spaces we provide our students, staff, and faculty. We want to be able to provide spaces that allow our users to succeed. Since our community has a variety of needs we must provide different types of spaces to accommodate individual and group study, social interaction, and quiet reflection. As a science and technology university, having technology in the library is critical to success. We hope to provide students with technology throughout the library and especially in our study rooms.
Donor Spotlights
P. J.
McGinnis

Gift

Funds in memoriam of library staff member to furnish shelving for leisure reading collection.
Development
Fund
Recent purchases of updated furniture and collaborative technology for student space.
Steinmetz CD Collection
Gift of over 650 classical audio CDs in memory of alumnus Charles E. Steinmetz, Class of 1951.
Purchase of journal backfiles in the areas of materials from Elsevier, such as the Earth and Planetary Sciences backfile in 2015.
Heilscher Endowment
Recent renewal of A/V collection to accommodate change in formats from VHS to DVD.
Henry Gross Fund
Recent purchases of books in mining and petroleum, as well as OneMine
Contact Us
Questions?
John Held, II
Director of Planned Giving