The History of Women at MSM – UMR – Missouri S&T
When the Missouri Schools of Mines and Metallurgy was inaugurated in 1871, the focus was on technology, the sciences, and mining. Women were not expected to pursue degrees or careers in these areas, but they could and did attend the school to take classes in more general subject areas. Originally, these women were enrolled as "special students." The special students did not earn full degrees; instead, they received certificates of proficiency based on passing examinations for their coursework. In 1873, 18 women were admitted as special students, including Jennie and Julia Bishop, the daughters of Rolla's founder, railroad contractor Edmund Ward Bishop. With only 17 regular students and 33 students in a special preparatory program, women formed a significant percentage of the total enrollment.
During the early years of the school, women continued to attend as the university as special or preparatory students. Male and female students attended some classes together, although their different courses of study kept them segregated to some extent. Separate spaces were also set aside in the Rolla Building for the use of women.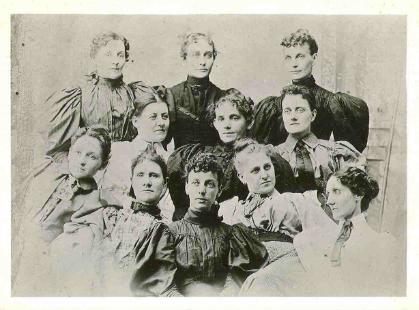 Missouri School of Mines Coeds from 1875 to 1885
The university experimented with expanding its curriculum to attract additional students in the years between 1878 and 1883, instituting courses in bookkeeping, teacher training, and a "girls' course" in the arts. While some of these courses might have encouraged more women to attend the school, gains in female enrollment were slight, and the new programs were quickly discontinued to return to a focus on the technical curriculum in 1883. However, in 1885 the Missouri General Assembly mandated that the university must provide a liberal academic course of study as well as technical coursework, and women continued to take these non-technical courses. In 1891, Sally E. Millard became the first woman to graduate from the university with a Bachelor of Science degree after completing the academic course of study.  
The number of women enrolled at the Missouri School of Mines started to decline after 1894, when the preparatory program was ended and a two-year high school was established in Rolla. In the early years of the university women might make up 25% of the enrolled students in a typical year. Between 1902 and 1920, in contrast, the greatest number of women enrolled in any academic year was seven; 225 men were enrolled that year.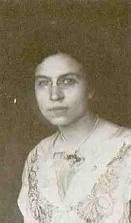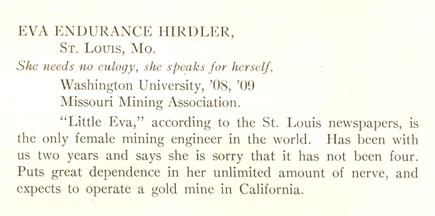 In 1911, Eva Endurance Hirdler became the first woman to graduate from the Missouri School of Mines and Metallurgy after pursuing a technical course of study. Although she only received the general science degree, she had completed the coursework to be a mining engineer, an achievement recognized by her peers when she participated in the St. Pat's knighting ceremony. She later stated that she believed that the faculty would not grant her a degree in mining because she was trying to enter a male-dominated profession. She worked in mining reconnaissance and oil production before shifting her focus to human engineering and industrial management. In 1972, the faculty at the university voted to award her a Bachelors degree in mining engineering in recognition of her work.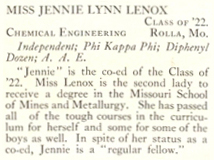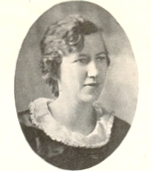 Enrollment of women increased slightly after 1920, but female students were the exception. Most of the women who did enroll were not pursuing technical degrees; they were in the general academic program or took classes before transferring to another school. However, some pioneering women did receive degrees from the university in the 1920s. Georgena Clarke became the first woman to graduate with a Masters degree in 1921, receiving a degree in general science with a thesis titled "Characteristics of bacillus influenza." The following year, Jennie Lenox became the first woman to actually receive a technical degree, graduating with a bachelors degree in chemical engineering. That same year, she received her Masters degree in chemistry from the school. Nadine Sease received both Bachelors (1926) and Masters (1927, majoring in English) degrees from the school; she went on to teach English at the university.
| | | | |
| --- | --- | --- | --- |
| | | | |
|  Jean Lloyd, Electrical, 1944 |  Margaret Renwick, Mining, 1946 |  Majorie Paul Spurrier, Ceramic, 1947 |  Marianne Schaefer, Mechanical, 1950 |
Female enrollment remained low in the 1930s, 40s, and 50s, but more women began to graduate with degrees in a variety of engineering and scientific disciplines. Mabel Phillips received a degree in general science with a concentration in physics in 1933; Ellen Woodman received a general science degree in biology the same year. Margaret Geraldine Grimm was the first woman to graduate with a degree in civil engineering in 1936. Florence Davis graduated with a general science degree in chemistry in 1942. In 1944, Jean Lloyd received the first degree in electrical engineering. Margaret Renwick graduated with a mining engineering degree in 1946, and Marjorie Paul Spurrier received a degree in ceramic engineering in 1947. Mary Dressner graduated with a degree in geology in 1947. Marianne Schaefer became the first woman to receive a degree in mechanical engineering in 1950. 
During these years, women also started to develop their own social organizations. The first women's group on campus, the Rollamo Co-Eds, was organized 1939. They reorganized in 1941 as the Pi Delta Chi sorority.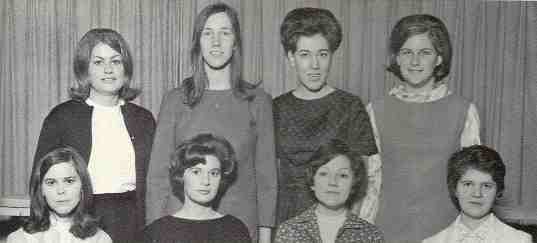 Society of Women Engineers, 1966
It wasn't until the 1960s, however, that the number of women began to grow significantly, creating new opportunities for women on campus. In 1962, the university provided the first dormitory for women to meet the growing need for housing, and additional facilities were added through the 1960s and early 1970s. The first tenure-track female faculty members were hired in the mid-1960s. New social organizations for women were also being founded at this time. A chapter of the Society of Women Engineers, originally begun in 1960, was reactivated in 1966. The first national sorority on campus, Kappa Delta, was chartered in 1972, and Zeta Tau Alpha was founded in 1973. (Chi Omega and Alpha Kappa Alpha were chartered in 1979 and 1981.) A women's track team was established in 1969, and the first woman coach joined the staff in 1974. The Women in Engineering Program was begun in 1975 as a scholarship program to support women pursuing engineering degrees.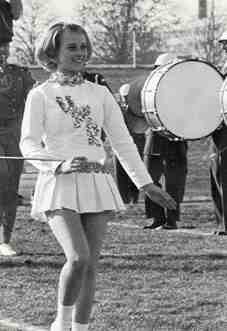 Myra Davis, UMR's First Baton Twirler
The increased number of women at the university led to changes in the social life of the campus. Prior to the 1960s, women had to be brought to the campus to participate in social events like dances, but that began to change as more women enrolled at the school. In 1965, female cheerleaders appeared at homecoming for the first time. The University of Missouri-Rolla's ROTC band had its first female baton twirler in 1966. In 1977, the students decided that only UMR students should be eligible to be homecoming queen—in previous years, women from other schools had served as queen. 









Leila Thompson, Civil, 1960
UMR's First African American Graduate
The 1960s and 1970s also saw growing minority student enrollment. Leila Thompson became the first African American to graduate from the Missouri School of Mines in 1960. She attended MSM on a scholarship and received a degree in civil engineering. She was only the fourth woman to receive a civil engineering degree from the school.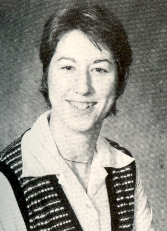 Susan Leach, SUB President, 1980
By the1980s, women had become an essential part of the university, as they are today. Female students formed 20% of the student body by the early 1980s. In 1980, the first woman president of the Student Union Board was elected, and in 1982, the first woman served on the St. Pat's Board. Women could participate in a variety of intercollegiate athletics in the 1980s and 1990s, including tennis, soccer, cross country, basketball, and softball; tennis is no longer a sport at Missouri S&T, but women's volleyball has been added. Enrollment by female students peaked at 24% of the campus population in the 1990s. Women made up 23% of the enrolled students in the 2007-2008 school year.
Missouri S&T continues to provide programs designed to support women during their student careers and in their professional careers in the male-dominated professions of science and engineering. The Women in Engineering Program, which was begun in the 1970s as a scholarship program, redefined its mission in the 2000-2001 school year. The new mission is "to promote diversity and support the needs of female students with the aim of increasing the number of female graduates entering our nation's engineering and science workforce." The organization changed its name in 2004 to better represent this mission, becoming Women in Science and Engineering (WISE). Also in 2004, the university launched the Women's Leadership Institute (WLI). Open to all female students, the WLI's ultimate goal is to enable more women to be ready to assume leadership and management positions after graduating from the university.
Works Consulted
Christiensen, Lawrence O. and Jack Ridley. UM--Rolla : A History of MSM/UMR . Columbia, MO: University of Missouri Printing Services, 1983.
Catalogue (University of Missouri, School of Mines and Metallurgy). Rolla, Mo.: Mekeel's Printing Establishment : E.W. Stephens. 1873-1955.
The History of Missouri School of Mines and Metallurgy. Rolla, MO: Phelps County Historical Society, 1941. 
MSM Alumnus. Rolla, MO: Alumni Association, Missouri School of Mines and Metallurgy, 1925-1995.
Ridley, Jack. Completing the Circuit: A Century of Electrical Education at MSM/UMR. Columbia, MO: University of Missouri Printing Services, 1984.
Ridley, Jack. Spanning the Years: Civil Engineering the Rolla Way . Rev. ed. by Diana Ahmad. Topeka, KS: Jostens, 2003.
Roberts, Clarence N. History of the University of Missouri School of Mines and Metallurgy 1871-1946 . (Rolla?, MO; 1946?)
Rollamo. Rolla, MO: University of Missouri--Rolla, 1907-.
This exhibit was prepared with the assistance of the Missouri S&T Archives. For further information about the history of the university, please contact their office at (573) 341-6954, or send an e-mail to archives@mst.edu.
Exhibit prepared by Sherry Mahnken